The many health benefits
Picture for a moment that you are sitting outside on a clear day with a light breeze cooling your face. You are surrounded by the bright greens of beautiful, healthy plants and vegetables. It suddenly occurs to you: "Why is there lettuce growing from slats on a horizontal board and several tall poles in the middle of the restaurant? Where is the soil? What does the circular waterway with fish have to do with the plants on top?". Could this be the aquaponic and hydroponic produce that you recently read about?
Then your vibrantly coloured salad arrives, and its fresh, crisp nature is immediately apparent. It seems like Mother Nature has just made a special delivery to your taste buds. Could there be a connection between the amazing salad and the unusual set-up around you?
With curiosity, you ask your waitress how these vegetables were grown. She responds confidently with aquaponic and hydroponic methods. Even more, questions pop into your mind; How do these methods actually work? Can these techniques be used by any restaurant, or even me personally, to optimize the harvest of chemical-free vegetables? Is it a marketing gimmick or is the produce really different than that produced by conventional farming?
After more discussions with the well-informed staff and the always reliable, Mr. Google, a lot of information was quickly discovered.
What is Hydroponics?
Hydroponics is simply growing plants without soil as the cycle is all completed in water. It sounds simple, although unusual to most people who are used to growing plants in dirt. It works extremely well because all the nutrients that plants need are provided through the water, allowing them to thrive. They are genetically and nutritionally healthier because no fertilisers and chemicals have been used. Only vitamins are added to the water to sustain their natural growth.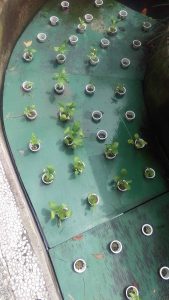 Restaurants love this concept as it is literally fresh from their garden to the guest's plate. As everything can be grown upwards, it does not require as much space or energy as does traditional farming. Depending on the climate just about anything of a smaller size can be grown hydroponically – strawberries, potatoes, tomatoes, mint, basil, lettuce, cabbage and green beans.
With all of these yummy, fresh plants and herbs at your fingertips, it is easy to lead a healthier lifestyle. Virtually every article about optimizing your health, says a diet rich in vegetables and fruit is the cornerstone! So imagine having everything at your doorstep!
What is Aquaponics?
Aquaponics is a combination of both hydroponics and aquaculture that grows aquatic life, mainly fish and plants in one ecosystem. The fish provide the nutrients for the plants and the plants filter water for the fish in order for them to survive. Bacteria and microbes also break down the nitrates for the plants to use as nutrients providing optimal nutrition for the plants.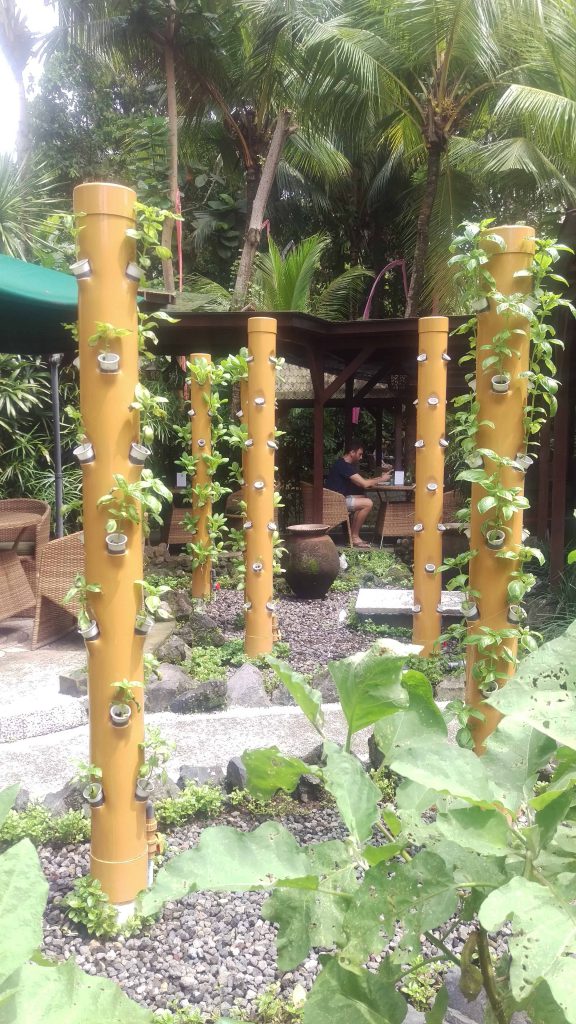 With aquaponics, it is all about recycling. There is very little waste involved, if any, and there is no toxic run-off, hence it becomes a natural-producing eco-system of its very own involving no toxic chemicals or harmful effects that could potentially kill off plants.
Plants and some types of fish can both be harvested by restaurants or individuals. It is genuinely organic as no chemicals have been applied and it is super fresh. A diet that is high in fish and vegetables will kill the free radicals that cause ageing and everyone loves to look young!
There are many plants that will grow well in an aquaponic gardening system, for example, any type of herb, green leafy vegetable, mint, chives, garlic, most common household plants, beets, banana leaves, micro beans, lemons, limes, oranges, and orchids. Many other vegetables will flourish if monitored carefully.
Where can I eat this type of produce?
Whether you are interested in a chemical-free meal or helping the planet survive through sustainable food production, it is worth searching out restaurants that serve meals with ingredients that are grown hydroponically or aquaponically. It will delight the palette and make you feel warm inside all at the same time.
On the Indonesian island of Bali, the spiritual and alternative lifestyle center has for centuries been Ubud. Today visitors can discover numerous health-focused restaurants featuring raw, vegan, vegetarian and organic menus. One of the most intriguing dining experiences is to eat amidst the gardens which produce much of what you will consume. You can actually do this right in the heart of Ubud at the Taksu Garden Café. Here their gardeners and chefs are carefully crafting these innovative growing techniques to enable them to deliver on their commitment to 'garden to table service'. It is really an art form as there are few other restaurants in the area to learn from, so they are constantly experimenting in their aquaponic and hydroponic gardens.
Their guests have been thrilled to pick various herbs and vegetables from their aquaponic and hydroponic gardens to give to the chefs to create their own dishes. Of course, not everyone is obligated to choose their own ingredients as the chefs have their dishes down to a fine science.
A customer favorite is spinach which matures every 6 weeks and is full of protein, iron, minerals and vitamins. It is a traditional superfood as it protects the heart, lowers cholesterol, slows ageing and aids digestion. In this day of primarily urban living, it is a rare treat to just pick it and eat it raw on the spot!
The major vegetable though that guests notice growing year-round is lettuce which makes their salads super crunchy and delicious when carefully blended with Taksu's homegrown herbs such as basil, parsley and mint. The flowers too are used as a garnish to remind you that you dining in the tropics.
The fruit and vegetables that cannot be grown on site are sourced from hydroponic and aquaponic farms in the higher mountainous areas where the cooler temperatures are more conducive to growing strawberries, blueberries, carrots, tomatoes, potatoes, corn and cabbage. As it is just an hour away, they too are all super fresh.
Definitely worth a visit when in Ubud. The staff is well-informed and happy to explain how their aquaponic and hydroponic gardens work so seamlessly together. Even the kitchen is open-air so you can converse with the chefs as they prepare your meal!