"You step into nature when you walk into this gorgeous spa." – Steph, Travel Writer
Taksu is a uniquely Balinese term which is not easily translated. It refers to rare and unique experiences that are immediately recognizable, and yet are indescribable. Taksu is a journey of deep relaxation and connectedness that leaves you feeling deeply nourished, at peace, aware, playful and harmonious – in flow with your natural state of being. Awaken your joy, grace and awareness through the gentle spirit of our professionally trained therapists. Come experience the Taksu difference.
Prices of all Spa Services, Yoga and Events are inclusive of government taxes and service charges. 
After your service you are welcome to rest and enjoy a complimentary drink in our Garden Cafe or order a snack or meal.
Our spa and restaurant combine traditional Balinese architecture with modern western facilities.
The property is situated on either side of a small river gorge. Nestled within this gorgeous tropical setting are our organic garden and restaurant.
A paradise retreat in the heart of Ubud.
Taksu Spa offers intimate spaces for the ultimate in pampering for any group occasion.
Our events team can tailor-make packages combining Spa services, Wellness and Dining to create a unique experience and life-long memories.

Are you an early riser?
Book any massage or spa service between 9:00 and 9:30 am and receive a 20% off the total cost of the treatment.
Share an intimate Taksu couples suite with each partner choosing their own pampering massage: Esalen™, Deep Tissue, Lomi Lomi, Warm Stone or Balinese massage, and receive a 20% off the total cost of the treatment.
Deepen your asana practice with a reflexology or Thai massage and receive a 15% discount when you purchase a yoga class.
Help our therapists improve their services and receive a discount on your treatment.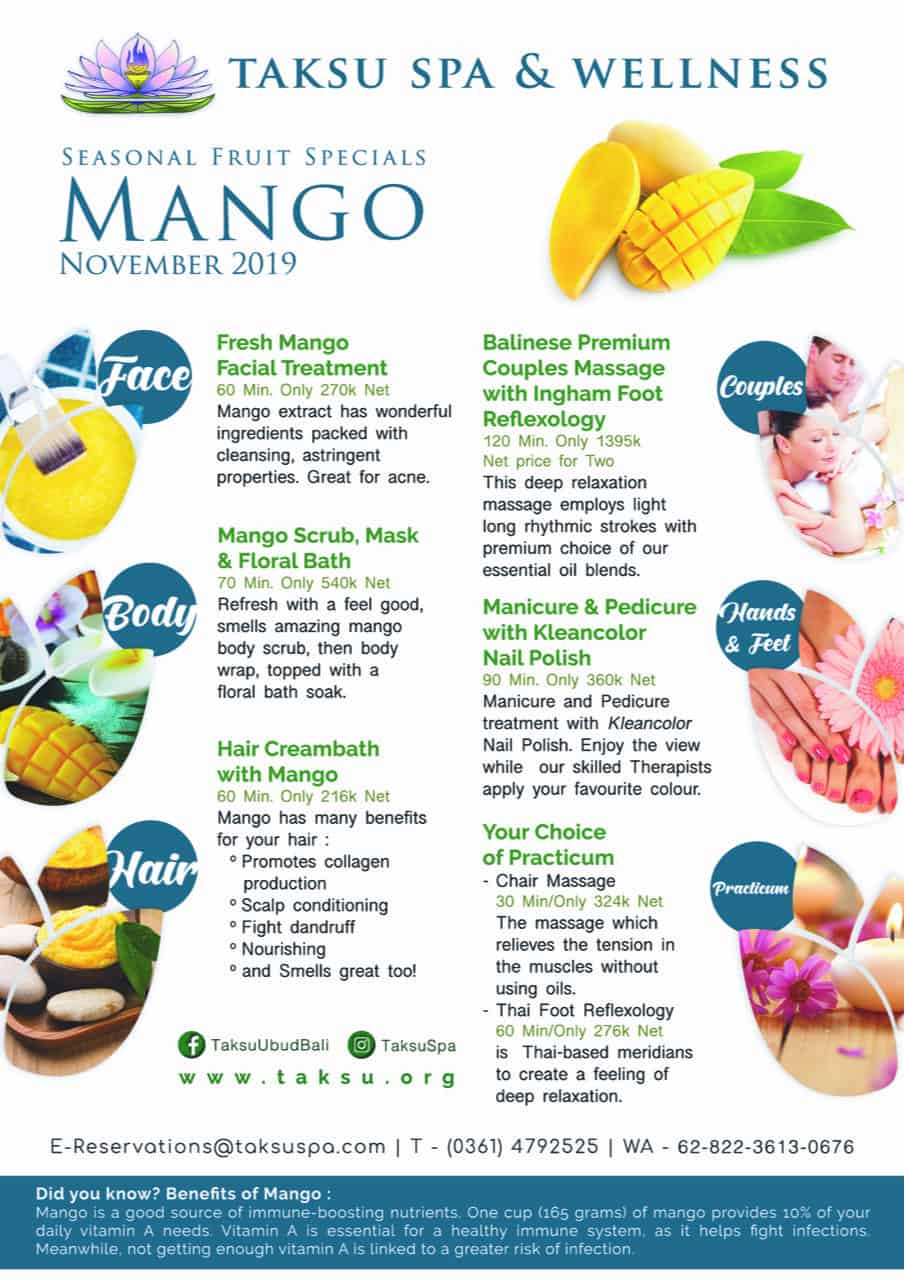 Here are some of the frequently asked questions to help you get most out of your Taksu Spa experience. If you have a specific question, feel free to contact us.
Taksu is a uniquely Balinese term that does not easily translate into other languages. It conveys an indescribable moment that brings you in touch with something joyful and timeless. It's used to describe both a once-in-a-lifetime peak experience and the striving to be prepared for that moment. It is deeply personal, immediately recognizable and impossible to describe. A moment of clear alignment and connection of body, mind and spirit.
Join us for a moment of Taksu – an exceptional experience of fresh, natural, organic cuisine; the finest destination spa offerings; personalized holistic practices; and extraordinary, locally made products. We strive to communicate the love and gratitude we at Taksu have for Bali's people, culture and natural environment.